Perhaps my previous book review post Two books about the countryside could have had the same title as this one. The two books reviewed here are by people, who are currently farming in the north of England. I didn't read them consecutively, sandwiching a work of fiction between them. Look out for my review of that shortly!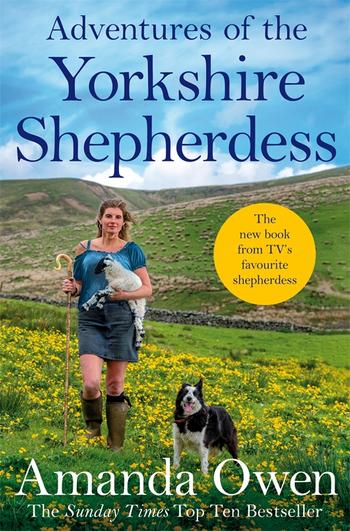 Adventures of the Yorkshire Shepherdess by Amanda Owen is the first of her books I have read, but the fourth she has written. It is described on the cover as 'The new book from TV's favourite shepherdess'. I haven't seen her on TV, either. However, I follow her on Twitter and have heard her speak on BBC Radio 4. I read Adventures of the Yorkshire Shepherdess on my phone using the Borrow Box App, where it was one of the featured books. It was published in March 2020.
Amanda Owen has a lively style of writing. The farm and her large family provide her with plenty to write about. How she finds the time is difficult to imagine, but as she said in the book, 'If you want anything done ask a busy person'. The introduction sets the scene and we meet the family with their six children. Although part of a series, Adventures of the Yorkshire Shepherdess stands alone. Farming successes and sad events as well as the purchase of a house and its refurbishment make for variety. Stories of missing animals add drama. There is a section with photographs. Conversations in particular are in Yorkshire dialect. The family increases in size and other interesting characters feature in the adventures. Amanda Owen's next book is being published on 28th October 2021.
Reviews of two of James Rebanks' earlier books have appeared on this blog. His latest book English Pastoral – An Inheritance was in the local library when I made a flying visit to it recently. I had wanted to read it since its publication in September 2020. James Rebanks farms in Cumbria not all that far from Amanda Owen. The counties of Yorkshire and Cumbria neighbour one another. In English Pastoral James Rebanks considers the introduction to farming his grandfather gave him as a boy. His family's farming history on two farms and his life on one of those now in the changing climate (of ideas as well as weather) are described evocatively. I have followed this author on Twitter since before his first book was published and his anonymity as @herdyshepherd1 (a contributor to Cumbria Life magazine) ended.
Although this book is mainly about a particular location, there is nothing parochial about it. The author is well aware of the wider world. One of the people, who endorsed English Pastoral is Isabella Tree, whose book Wilding I reviewed recently. It's a small world! English Pastoral was the book of the year 2020 in several UK newspapers. James Rebanks is working on his next book.
I enjoyed both these books and feel that I now understand more about the various activities I observe in the fields around the village where I live, than I did even last month!
With all the debate about climate change, rewilding and food supplies, the voices of people working on the land are particularly worth listening to. These two authors want to leave the world a better place than they found it.