Having been alerted by a friend to a book by Tracy Chevalier that I hadn't read, I had a look in the library and borrowed A Single Thread. Unusually I didn't begin reading it for a few weeks. Once I did I finished it in three days.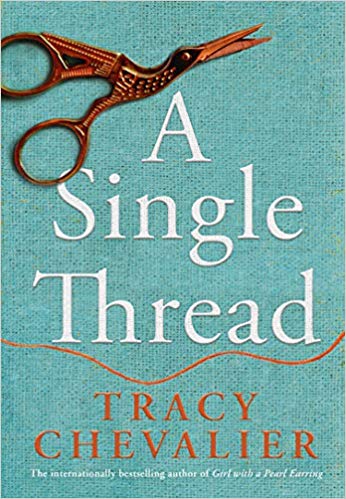 A Single Thread is a historical novel set in the period between WWI and WWII. Due to the number of young men killed in WWI there were far more young women than men. As a result there were many single women. Their plight is the background to this interesting, sensitive story. It is set in the south of England, Southampton and Winchester being two of the locations. Aspects of life in the family, the workplace and in voluntary roles at Winchester Cathedral are portrayed realistically. There are a good number of characters, all with their individuality.
The title is clever as embroidery as well as spinsterhood features in this novel.
I was glad that something, which had puzzled me, became clear in the final paragraph of acknowledgements. However, I was surprised by the scoring in the game of cribbage, which differed from what I was taught by my grandfather, who served in WWI.
A Single Thread is book I recommend highly. It is available in hardback (like the copy I read), paperback, ebook and audiobook.