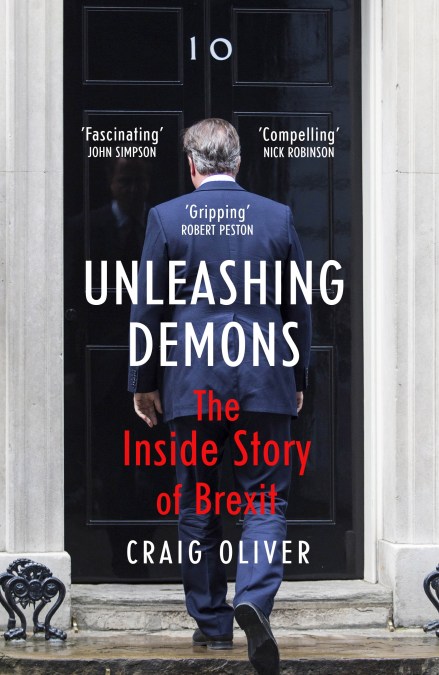 Hubby found a book in the library – Unleashing Demons: The Inside Story of Brexit by Craig Oliver. He found it difficult to put down. Although (or perhaps because) Brexit seems to have dominated the news in the UK for the last few years, I decided that it would be useful to read this book. It is extremely well written. Craig Oliver was David Cameron's Director of Politics and Communications. Previously he had won awards as a journalist. The book (published in 2016) covers the period from the run-up to the referendum until David Cameron's departure from 10 Downing Street. It is a fast-paced story.
My only criticism of this book is that there is no glossary of jargon words (or of people, although it is usually possible to read the text carefully and find out the role of everyone). I struggled with 'bilats', which looked French and was used in connection with Brussels. From the context I surmised it was meetings of some sort. Hubby had worked out it was bilateral meetings. (I do not read a great deal about politics.) This book has educated me about the large staff of the Prime Minister and what sort of life politicians lead out of the public eye. The amount of communication between 10 Downing Street and various news agencies was also an eye-opener. Press conferences are only part of the bigger picture.
A member of the writing group I go to lent me a book: Pooh and the Philosophers by John Tyerman Williams. It is a romp through the best known philosophers from Ancient Greece until modern times with reference to the two Winnie-the-Pooh books by AA Milne. Most predate Pooh, but the more recent ones were alleged to have been influenced by him. Unusually there were two bookmarks chasing each other through this book as hubby began it before I finished it! Very entertaining and informative. I cannot remember having a book read to me as a child before I listened to Mum reading Winnie-the-Pooh; it has remained a favourite. I am slightly less familiar with The House at Pooh Corner, although I reread it two years ago.